Visustin – Flow Chart Generator Software
Visustin is the ideal diagramming tool for software developers and document writers. Visustin diagrams Ada, ASP, assembly language, BASIC, C/C++, C#, Clipper, COBOL, Fortran, Java, JSP, JavaScript, LotusScript, Pascal/Delphi, Perl, PHP, PL/SQL, PowerScript, PureBasic, Python, QuickBASIC, REALbasic, T-SQL, VB, VBA, VB.NET and Visual FoxPro code.
Visustin creates flow charts and UML activity diagrams from source code. Open up your code in Visustin to see its flow chart or UML Activity Diagram. Visustin can reverse engineer its underlying structure. All control flow structures such as conditionals, loops, jumps, premature exits and error handling statements are visualized in an easy-to-understand format. Visustin reads the if and else statements, loops and jumps and builds a diagram – fully automated.
With Visustin, you can know more of your code, restructure your incomprehensible code, verify program logic, review algorithms, fix bugs and write improvements faster than ever before.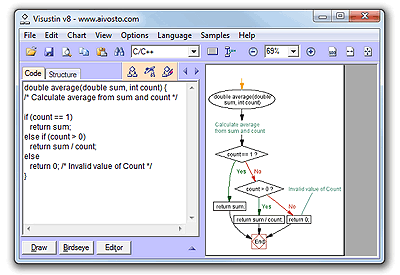 Visustin Diagram Creator Key Features :
Automated layout. Visustin creates an optimal visual layout automatically. Just hit one key and you're done – no need to adjust the charts.
Flow charts include all of your code, optionally the comments as well. Create large master charts or small charts with just the important logic.
UML Activity Diagrams do the same in UML style. Pick your preference or do both UML and flow charts.
Multi-page print. Print large flow charts on multiple pages, or squeeze to fit on one sheet.
Save graphs. Use flow charts in your project documentation in GIF, PNG, BMP, JPG, PCX, TGA, PPM, PGM, WMF, EMF or PS image format.
Visio export This feature only available in Pro Edition. Export your flow charts to Visio 2002/2003. Visustin can create flow charts for Microsoft Visio 2002 and 2003. You can edit the diagrams in Visio and use in your documentation.
Bulk charting This feature only available in Pro Edition. Flowchart all your source files in one run. Also exports Visio .vsd files.
PowerPoint export. Create flow chart slide shows.
Web publish. Save flow charts as web pages or MHT web archives.
Word export. Create flow chart .doc's.
Posted by Naomi. Filed in Software
Advertisement